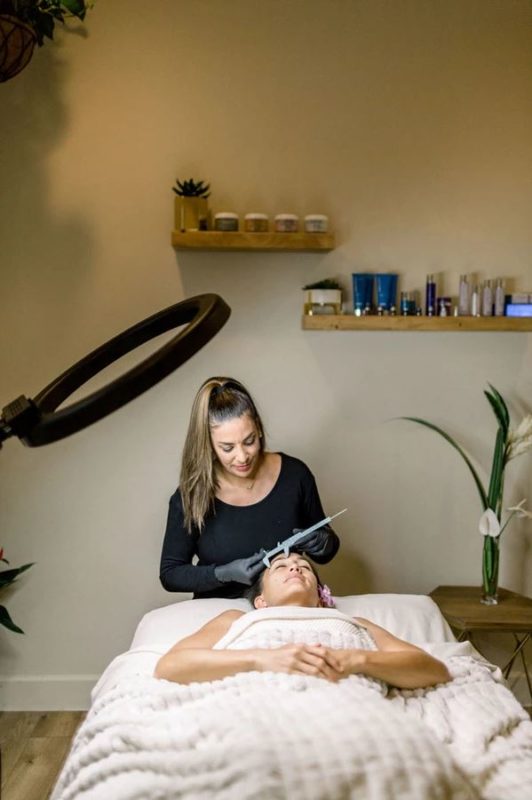 Microneedling FAQ's
The secret to microneedling's success are the ultrafine needles that puncture your skin to make very tiny wounds. As your skin heals from these wounds, your body's collagen production soars, resulting in taut skin. Surface scarring is eliminated and fine wrinkles are softened, if not erased. Simply put, it's the only treatment that tightens your skin while also reducing your wrinkles at the same time.
​What are the benefits to Microneedling?
The majority of patients seek microneedling treatment for its anti-aging benefits like smooth, taut skin and a less wrinkled appearance, but it also corrects scarring due to acne. The collagen that the procedure creates helps fade your scarring. The result is the restoration of your flawless skin!
​How long with my microneedling results last?
Shaheen typically recommend a a series of three to six treatments spaced four to six weeks apart, followed by maintenance treatments every six months for long-lasting results.
​What should I expect during a microneedling treatment?
​About an hour before treatment, Shaheen will apply a topical anesthetic to reduce discomfort. Then she'll use a handheld device to make pinpricks in your skin, promoting collagen production. The entire treatment typically takes a 30-45 minutes.
​__________________________________________
​Microneedling Pre-Treatment Instructions
​​Avoidance of Accutane for the past 6 months
Avoid retinoids, topical antibiotics, exfoliants, hydroquinone, sunburn, and benzoyl peroxide 3 days prior to procedure
Recommended skin care system for preconditioning for 4-6 weeks for optimal results
Avoidance of IPL/Laser procedures for the past 7 days prior
No waxing, depilatory creams or electrolysis 5-7 days prior to the peel.
If use of a peel was recommended in conjunction with the micro-needling, No topical agent that may increase skin sensitivity, reaction to the peel, or dryness 3-4 days prior to the peel (topical retinoid or hydroquinone products). No acids or defoliants that may be drying or irritating to the skin (such as alpha hydroxyl acid (AHA) beta hydroxyl acids (BHA), exfoliating masks, hydroquinone, or benzoyl peroxide acne products).
No shaving the day of the procedure
No significant changes in the skin recently reported including breakdown of skin or excess dryness or sunburn
Skin is clean without lotion, oil, makeup, deodorant, powder, perfume or sunscreen
Antiviral agent for 2 days prior to and day of treatment if history of cold sores
Patient denies today: active cold sores, herpes simplex, or warts in the area to be treated, open sores, sunburned, or excessively sensitive skin within the application area, pregnancy, dermatitis or inflammatory rosacea within the peel application area. Reports no allergies to salicylates
​__________________________________________
​Day Of Treatment Instructions
Omit lotions, creams, make up or deodorant in area to be treated
Arrive with clean washed skin
Inform provider of any changes in medical history and of all medications you are taking
​Post Treatment Instructions
​Immediately after your Micro-Needling procedure, your aesthetician may apply moisturizer and sunscreen topically. Do not take any anti-inflammatory medications such as ibuprofen, Motrin or Advil. These agents will interfere with the natural inflammatory process
that is critical and responsible for your skin rejuvenation.
Avoid sun tanning and prolonged exposure to direct sunlight. When exposed to sun, always use sun screen SPF30 or above. You may clean your face with a gentle cleanser before bed. Image matte sunscreen is a perfect recommendation for clients.
Redness or sensitivity might be present (and last up to a few days) after peel

Use Tylenol only as needed for any soreness

Peeling may start 3-5 days after peel. Do not pick or scratch at treated skin but instead keep moisturized

Eat fresh pineapple to optimize healing

Avoid strenuous exercise or sweating for 24 to 48 hours due to open pores

Treat skin gently washing with a gentle cleanser, cool water, using hands only and pat dry no earlier than 4 hours after treatment

May use cool compresses after peel if excessive discomfort, burning, redness, or swelling

Avoid sun exposure for 3 days and if possible 10 days. Apply a minimum of SPF 30 every 2 hours

May use mineral makeup after 24 hours

Restart regular skin care regimen in 48 hours and Retin A in 72 hours

Recommend follow up and repeat treatments in 4 weeks and for best results a series of 3 – 5 treatments, although some may require more (acne scars etc.)
​Some products that are amazing for healing the skin are:
Eminence Organics Stone Crop Gel Wash, Intraceuticals gentle cleanser, Facial Recovery Oil, CBD Oil (kukui nut oil base) Pure Raw Tamanu Oil & Colloidal Silver hydrofoil are a great holistic alternative, aside from the CBD oil.
​__________________________________________
​PRECAUTIONS
Dirty phones harbor bacteria galore, so be sure to disinfect the phone before client leaves after treatment
Pillow cases and sheets can irritate the skin if harsh chemicals or detergents with perfumes are used to wash or dry (dryer sheets)
Skin that has sores or acne should not be treated as the micro needles can actually have adverse effects and spread bacteria
No sweating or make up for 24-72 hours after, make sure the client understands their pores are open and susceptible to breakouts and hives if exposed to bacteria
Makeup brushes must be cleaned thoroughly before reusing them on the fresh new skin
Skin with Rosacea should not be treated or be treated only on the lightest settings
Pregnant women have the choice to receive service, as this treatment does not inject anything into the skin, but opens them up to blood pathogens
​__________________________________________
​Client Post Treatment Instructions
Day 1: On the next day, you may clean your face as usual and apply makeup, lotions and other topical products as usual. Stay away from exfoliants or glycolic acids that are present is cleaners as these can make your skin very dry after the procedure. Be sure to use an approved SPF30 or greater sunscreen!
Days 2-7: Within two (2) days following your Micro-Needling procedure, you will notice skin dryness and flaking. This is due to an increased turnover of skin cells. During this period, you may apply your regular skin moisturizer. Follow the instructions given to you by Shaheen. If Shaheen used the roller around the eyes, you may have a little micro bruising that may exist for three or four days. This can easily be covered with makeup. Days later, your skin will start shedding. These are skin layers that would regularly shed a week later, but the Micro-Needling brings this skin to the surface sooner. During this temporary process, your skin will shed and be dry. You may use your regular skin care products once your skin is not irritated.
Days 7+: A week after the Micro-Needling procedure, most patients notice that their skin is smoother and more radiant. Continue with sun protection every day and reapply every 2 hours if outdoors.